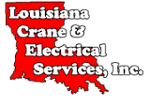 Louisiana Crane & Electrical locations are now accepting applications for service technicians in the following areas:
Broussard, Louisiana
Shreveport, Louisiana
Houma, Louisiana
Key Duties and Responsibilities:
Willingness to perform "hands-on" maintenance work at heights typically above 20'
Ability to read and understand mechanical drawings and electrical schematics.
Minimum of 2 years on-the-job experience doing hands-on maintenance. Troubleshooting of Bridge Cranes, Hoists, Gantry Cranes, Jib Cranes, Monorails and other lifting equipment
Capable of heavy lifting (up to 50 pounds.)
Excellent attendance
Ability to expand job responsibilities, suggest improvements, and work with others to generate ideas to improve processes within the company.
Articulate repair process clearly to customers in the field without office supervision
Job Duties will include:
Attend weekly communication meeting
Attend monthly safety trainings
24 hours on call service (On a Weekly Rotating Schedule)
Perform OSHA inspections
Abiding by all Louisiana Crane and Electrical safety requirements
Abiding by all Louisiana Crane and Electrical customer safety requirements
Other tasks as needed by management
After a 90-day probation period, you will be provided with:
Cell phone allowance or company phone (as determined by management)
Company vehicle and gas card (for company use only)
Company Supplied Uniforms
Health Care Insurance
401K with company match
Paid holidays
The service technician position will report directly to the Location Branch Manager. Core hours are Monday thru Friday, 7:30 AM to 4:30 PM.
Please email resumes to sales@la-crane.com or apply in person
Above industry average standard pay and will be commensurate upon experience. ($18.00 -$30.00)